Vol.2
If an engine of Abarth 1000 was not broken, he had not visited Torino and so "CAR STYLING" might have not been launched.
In fact, it was on a day in his second year since assuming a chief editor of a magazine called "AUTO SPORT" when the opportunity of the first issue publication was found.
When Abarth 1000 owned by a reader was test-driven by a well-known racing driver at Fuji Speed Way, the engine rapidly broke down.
While the owner demanded compensation, repair in Japan was quite difficult and fortunately a machine was to be sold as a result of negotiation with Osella Abarth in Italy.
The visit to Torino to purchase the engine was what began it all.
Why was it possible to launch CAR STYLING and how the risk to cease its publication was overcome?
Mr. Fujimoto talked to us a lot with stories of difficulty and untold stories behind.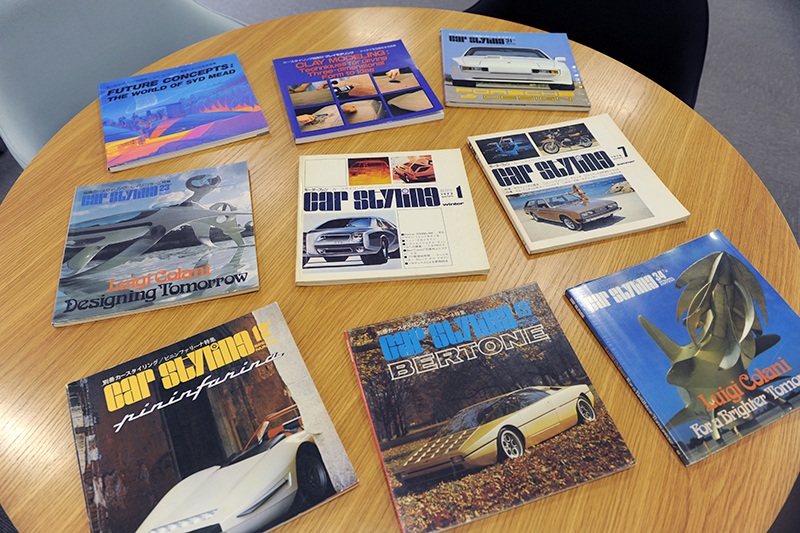 CAR STYLING 
To Torino of a car design holy site
In the previous issue, we received stories about "car design in the future from a perspective of Mr. Fujimoto".
In this issue, we would like to ask about "Mr. Fujimoto and CAR STYLING magazine".
What kind of work was you involved in before assuming the chief editor of CAR STYLING magazine?
Mr. Fujimoto : I was in a position of chief editor of AUTO SPORT from 1969 to the first half of 1972.
I had been belonged to Motor Fan Art department before that.
Interested in technical illustration, I intended to be independent by mastering the technique.
As I was also in a position of chairperson of Motor Fan Labor Union back then demanding the company to shuffle the management team, when I sent in Masaaki Kubo, then chief editor of AUTO SPORT as a director to the management team I was forced to promise to accept his replacement and assumed the third chief editor of AUTO SPORT.
It was in 1959 when I joined Sanei Shobo.
Mr. Fujimoto : Back then in 1971, AUTO SPORT magazine provided a reader participation project called as "Used car test".
A car brought in the project was Mr. T.K's beloved car, Abarth 1000 and the test driver was well-known top class driver in the world, Mr. K.
If I'm correct, the engine blew up on 6th lap in the circuit of Fuji Speed Way.
As a result of inspection at a repair plant in Akasaka, they said there was no choice but to replace the engine because of messing up of valve timing.
Because of the contact point of Osella Abarth obtained from Italian Embassy by Osami Suzuki, the president of Sanei Shobo, the deal to purchase an engine for race was completed.
Then, I visited Torino as an editor in chief.
However, Italian I knew was just "Bonjorno" and "Grazie", my visit to Torino was dependent on Tateo Uchida who was already a chief designer of Carrozzeria Michelotti back then.
As I happened to meet with Hideyuki Miyagawa at Torino Motor Show, I was introduced to Giorgetto Giugiaro, a budding car stylist.
In addition to the fabulousness of cars designed by him, other works by carrozzeria created a futuristic and fantastic world.
I also took a tour of heart-throb Torino Automobile Museum.
I have not forgotten the strong impression at the time still now.
An array of classic cars with shapes similar to a carriage and small sports cars of various colors were arranged there.
I was impressed to the extent to tears thinking that it's exactly the car culture.
On the other hand, it was also significantly shocking to hear evaluation of Japanese cars by Italians from Mr. Uchida that "it's cheap and equipped with any and all accessories but the design is poor without characteristics."
How can Japanese car design be improved?
Is an excellent information magazine likee "Style Auto" in Italy necessary in Japan too?
I deliberated a plan on a plane on the way back home.
I also figured out the name of the magazine e "CAR STYLING" at the time.
First publication of "CAR STYLING"at last based on cooperation of many domestic and overseas car designers.
What kind of difficulty have you experienced for the first issue of "CAR STYLING" magazine?
Mr. Fujimoto : Since I knew little of the reality in car design even though my plan was adopted, we created "Pre-first issue" at first by communicating with each domestic automobile manufacturer through our company to gather car designers with an experience of studying in Art Center College of Design in Los Angeles dispatched by companies.
The arrangement of gathering was made by Masahiko Kaneko, a car designer (back then), who had graduated the college at his own expense.
He accepted management of North America branch office and distribution source later.
In the gatherings called as brain meeting, it was determined that CAR STYLING would introduce techniques of sketch and rendering as well as works of designers who were active across the world by mainly collecting information of Detroit.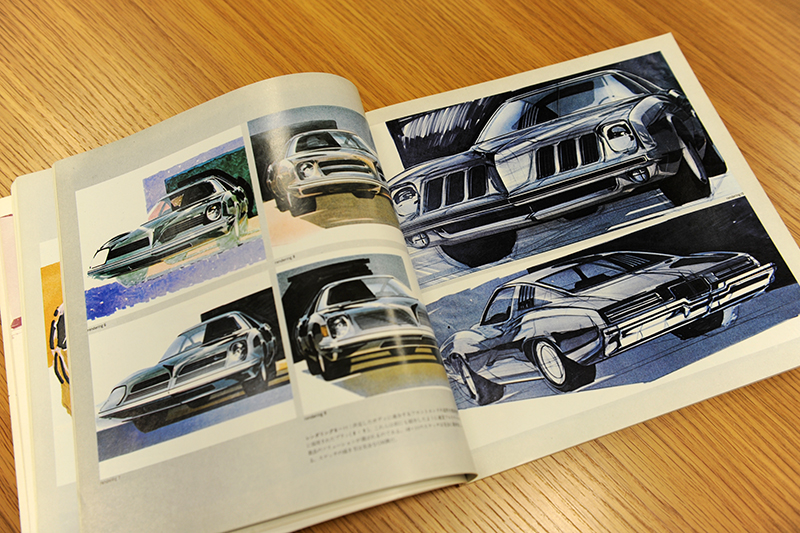 Mr. Fujimoto : Thus, CAR STYLING was published as an extra issue of Motor Fan on August 1972.
This issue was kind of a prototype and so the first issue was published on December 1972.
Of course, we asked designers participated as our brain to make unrestrained evaluation.
Even though contents of edition received favorable evaluation, in response to a suggestion to make the cover design more distinct by changing the shape of book into square, the size of the book was subsequently changed into "wide AB-size" which is wider than AB-size by 40mm in width.
Cover title was placed at a position of 3/4 in vertical direction.  
It was an idea of Mr. Negishi who was a designer of Isuzu at the time.
It was popular among readers but we also received complaints from book stores.
Such as inconvenience for display and transportation due to its too long width, and no choice but to be laid out flat due to difficulty in cover title recognition, etc.
However, the style was kept because we didn't want to change the style once determined.
We were greatly helped by Masahiko Kaneko in collecting data overseas.
When we visited GM Technical Center in Detroit led by him and showed the pre-first issue to Charles Jordan department manager, he promised saying "we are ready to continuously support you if you continue it."
It was an on-the-spot visit with nothing to be expected, but the beautiful sketches and pictures at the time of Pontiac Gran – Dam development posted on the first issue were sent to us by Mr. Jordan with his own comments on the printed pictures of 8 × 10.
These materials became a popular topic among car designers in Japan.
Do you think why it has been familiar to many readers since its pre-first issue was published?
Mr. Fujimoto : Looking back to the age when the first issue was published on December 1972, automobile manufacturing finally became a business along with the soaring domestic car demand amid the high-growth period but each company seemed to be in trouble to develop designs.
Shortage of information regarding car design was apparent.
It was proved later that development framework of Japanese automobile manufacturers had been incomparably lag behind the Big Three in Detroit.
In response to such background of the time, I guess the whole car industry had an atmosphere that "excellent designer should be cultivated."
Because it was also a time when young generation had strong aspiration for a profession of "illustrator" not just for car designer, readers might have been interested purely in rendering technique and sketching method as well as each work itself.
As we reported on Art Center College of Design for the first issue, then President Don Kuwbrie highly evaluated the completed magazine saying, "CAR STYLING magazine is a bible of students."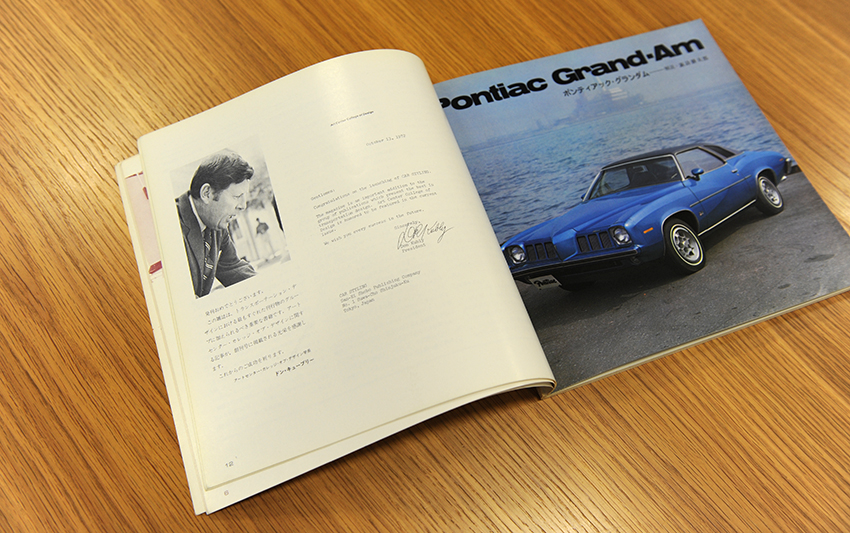 Only members(free) can see this content.
※We are asking for readers registration to properly understand reader needs.